With some many tweets competing for your followers' attention, what can you do to boost the engagement level besides constructing content rich and beautifully written tweets? Here are some simple strategies that are proven to generate results.
1). Include a photo or a video with your tweet. 
Since last November, previews of photos and videos are displayed right below your text when links to them are shared in your tweets. Study by Twitter indicates that they boost retweet level by up to 35% among your followers.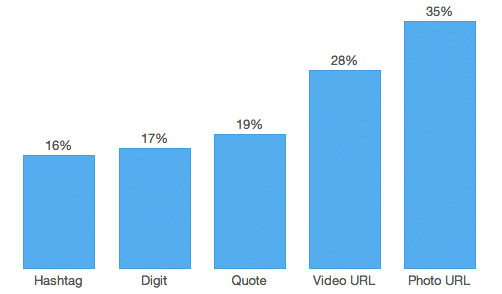 2). Tweet at an appropriate frequency. 
There are no one-size-fit-all rules on how much your should tweet, you should do some experiments and use common sense within your business environment. Two top reasons why people unfollow accounts on Twitter includes those accounts tweeting too much or too little.
3). Do some cross promotion.
For example, embedding a live feed of your twitter messages on your website might give it more exposure and attract more followers, and to give your existing followers more opportunities to interact with your tweets.
4). Make it interesting and relevant.
Try to research on topics in your field that people are interested in and share your own thoughts on them, make your tweets unique among many voices.