Let's face it, there are a lot of noise on any search engine result pages, there are many websites and links competing for the eyeballs of your potential customers.
So how do you make sure you brand is always displayed front and center and grab the attention of your potential customers? Baidu Brand Zone could be such a solution and a good tool for your search engine marketing effort in China.
What is Baidu Brand Zone?
Baidu Brand Zone is a paid search product offered by China's primary search engine Baidu.com.
Using the luxury brand Prada as an example, here is what a Baidu Brand Zone look like on a search result page: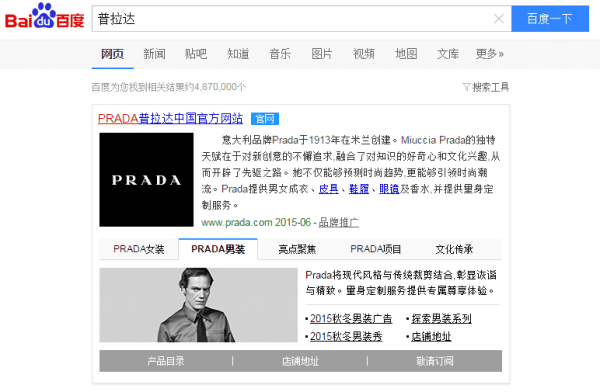 At first glance, one can already see two key difference between Baidu Brand Zone and a regular search result:
Instead of plan text, Baidu Brand Zone incorporate rich media elements such as pictures and customized styling.
It always appears in the first position of the search result page.
What are the main features of Baidu Brand Zone?
With Baidu Brand Zone, brands have much more tools available to present their image and engage their customers effectively. They can:
Display a brand logo
Add an "Official Website Link" sticker
Add a blurb about the company and brand
Incorporate images and videos in the presentation
Use tabs to organize and present more information
Add call to action buttons
Set many customized links to different pages on the official site
Link to brand's social media account
Custom design the look and feel of their Baidu Brand Zone
Once again, let's take a look at Prada's Baidu Brand Zone to see these features in action.
Note: You can click on the screen capture below to view it in full size.
Does Baidu Brand Zone work on Mobile?
Yes, it does. However, a simplified version will be shown.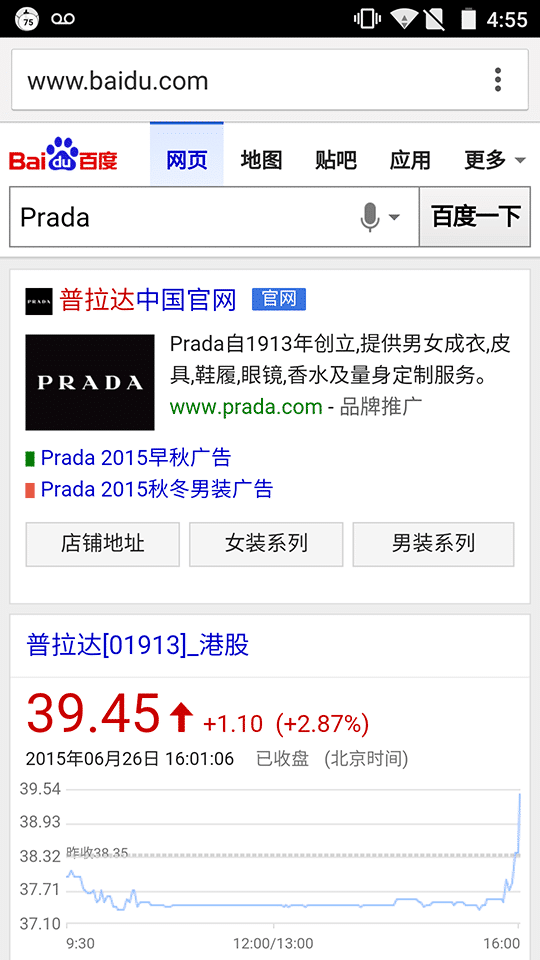 What are the main benefits of Baidu Brand Zone?
Guaranteed No. 1 Position on Baidu search result page, making sure your brand catch the attention of potential customers.
Building brand awareness and trust among potential customers – areas that traditional PPC ads are not particularly strong in.
Effective linking to improve conversion. Customers can be taken to the final steps of a sales funnel directly, reducing attrition.
Rich media experience. With rich text, custom styling, pictures and videos at brands disposal, the possibility to present information right on search result page is limitless.
Connecting brand's online marketing efforts with offline marketing campaigns. (case study to follow, please check back).
Easy integration with social media channels. (Case study to follow, please check back).
Can be used as an effective communication channel for brand reputation management.
Prevent your competitors from ranking higher on your keyword search result page.
Should you invest in Baidu Brand Zone?
Baidu Brand Zone is a paid feature, which costs around 100,000 CNY / month, which is around 16K USD at today's exchange rate.  It is not a small ad spending, so brands should plan their China digital marketing strategy carefully and weigh potential benefits of this product against the cost before making a decision.
At Fei Digital Marketing, we advise our clients to consider Baidu Brand Zone in some of the following situations:
They have a high value brand
They want to establish brand recognition in China quickly or maintain a high exposure of their brand
They face intense competition on their keywords in organic search
They already spend more than 100,000 per month on PPC and display campaigns
They already run expensive TV ads, newspaper and magazine ads in general
They plan to aggressively grow their market share in China
The potential return is much higher than the cost of Baidu Brand Zone
Considering the relative high cost of running Baidu Brand Zone, we recommend working with a China search marketing agency to make sure your brand get the maximum benefit. At Fei Digital Marketing, we are always here if you need help, just let us know.